There aren't many women on this planet who would give up men for.... hell, it's a very very short list (if you've had dick, you will understand).... But, there is a list nonetheless.
1.
Angelina Jolie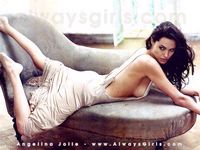 2.
Helen Bonham Carter.... hey, what can I say.... I like the weird ones.
3.
Janine..... Something about her tells me that she would give me the best head ever, then kick me in the face afterwards..... le sigh....